A Review of HostGator Web Hosting Service
22 Feb 2015 09:23
Tags
+A Review of HostGator Web Hosting Service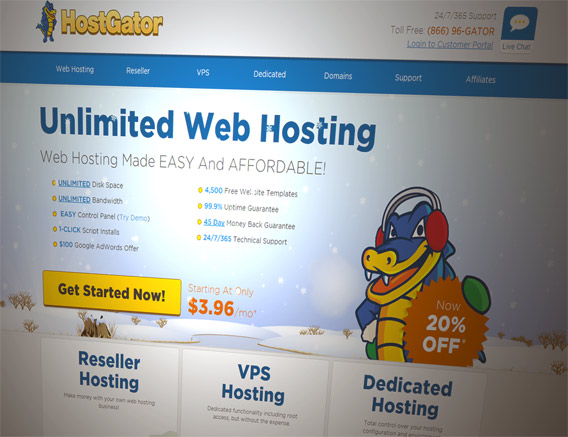 Founded in 2002 by Brent Oxley, HostGator currently hosts more than eight million domains, making it one of the most popular web hosting companies in the world. The company offers a wide range of hosting services including dedicated, shared, reseller, and VPN hosting services. Here is a detailed review of HostGator web hosting service:
HostGator Web Hosting: Hosting Packages
HostGator offers its clients various hosting packages. Firstly, the Hatchling Plan starts at $2.48 per month and has features such as unlimited disk space, unlimited bandwidth, shared SSL certificate, and single domain. Secondly, the Baby Plan starts at $3.98 per month and comes with unlimited domain, unlimited disk space, unlimited bandwidth, and shared SSL certificate. Thirdly, the Business Plan starts at $6.47 and comes with unlimited domain, unlimited disk space, unlimited bandwidth, free private SSL certificate and IP, as well as free toll free number. In addition, clients get access to more than 4,500 free website templates, $100 Google AdWords offer, free Weebly SiteBuilder, free website transfer, free MySQL transfer, script transfer, and domain transfer.
It is worth noting that one can go for shared or virtual/dedicated web hosting. In general, if you expect high traffic volumes or have to comply with specific hosting requirements such as HIPAA, it is advisable to go for virtual/dedicated web hosting. For example, the Snappy 2000 plan has features such as 2 CPU cores, 2GB RAM, 120 GB disk space, 1.5 TB bandwidth, and 2 IP addresses. In addition, you can go for semi or fully managed servers. It is up to you to choose a package that suits your business needs. Prices for these packages run from $19.95 to $159.95 per month.
HostGator Web Hosting: Technical Support
One aspect that distinguishes HostGator web hosting services from its competitors is great technical support. To start with, it offers 24-hour premium support every day of the year. Clients can access this support via live web chat, phone, and ticket system. Secondly, HostGator has more than 1,000 video and text-based tutorials on its site. You can use this content to learn everything you need to know about hosting. Thirdly, HostGator automatically performs weekly off-site data backups. Fourthly, the company undertakes 24/7/365 server monitoring.
Learn how to install WordPress on HostGator >>
HostGator Web Hosting: Reputation and Reliability
Web hosting is generally a tough business, especially when it comes to customer satisfaction. Nevertheless, HostGator has been able to keep most of its customers happy so far. In fact, the company has a Better Business Bureau (BBB) rating of B on a scale of A+ to F; F being the lowest and worst rating. Over the last 12 months alone, the company has responded to and resolved 101 complaints. On the reliability front, HostGator guarantees its clients 99.9% uptime. Moreover, it offers a 45-day money back guarantee. Finally, it has won numerous awards over the years including 2011 Best Free website Transfer Service award and the 2012 Best Host award.
HostGator Web Hosting: Infrastructure
HostGator has state of the art data centers in various parts of the US such as Houston in Texas and Provo, Utah. These data centers have highly redundant power systems such as diesel generators and uninterrupted power supply (UPS) battery backup units to ensure sites remain online even when serious power disruption problems occur. Furthermore, HostGator has installed high-performance network gear from industry leaders such as Cisco, Juniper, and Arista Networks. This is in addition to smoke detectors and physical security measures.
Final Word
**HostGator** is currently one of the top hosting services. The company offers affordable hosting packages that start as low as $2.48 per month and customers get to enjoy 24/7/365 technical support accessible via ticket system, phone, and web chat. Moreover, HostGator guarantees 99.9% uptime and performs automatic weekly off-site data backup.
Learn more about free web hosting here >>
Learn more about cheap web hosting here >>
Comments: 0
---
page revision: 2, last edited: 15 Apr 2015 18:31